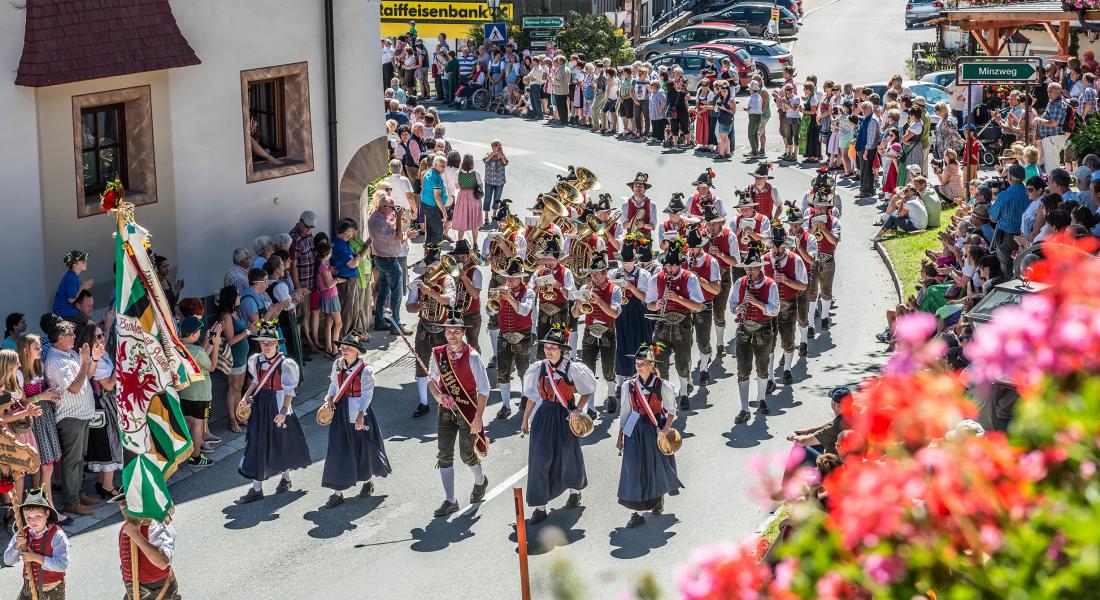 Events & Excursion destinations
We like to celebrate ...
... not for nothing are we also known as the Valley of Music. Throughout the year there are always festivals and events of any kind.
The highlight of the festival year is certainly the Wildschönau "Talfest" (valley festival) in August, which is widely known. The absolute highlight is probably the colorful parade on Sunday of the Talfest, which leads through the village of the organizing brass band. Around 700 participants are involved in the event: brass bands, numerous magnificent floats, marksmen and many other traditional clubs in the region. Afterwards there will be concerts of participating brass bands in the marquee. The Talfest always takes place on the second weekend of August from Thursday to Sunday and changes every year through our villages. Next time in Niederau from 10th - 13th of August 2023.
The "Almabtrieb" (Homecoming festival) is also very popular here in the Wildschönau valley. When the cows are colorfully and artistically decorated, we go back to the valley together. Over 500 recovered and happy animals come back to the valley and to their home stables. This festival day is of course accompanied by an alpine festival with music and a handicraft and farmers market - it is always worth a visit.
It becomes more contemplative in the Advent season. At the Family Advent at the Drachental the perfect backdrop for deep conversations and "winding down" in the quiet time is offered. You'll find a great program on all Advent weekends from 2.00 p.m. to 7.00 p.m. Local clubs take care of your physical well-being - whether barley soup, biscuits, lard noodles, ... there is something for everyone. In addition to the activities for young and old on the ice skating rink, the Alpine Coaster and much more, entertainment is also provided by music and traditional groups from the Wildschönau. And if you still need gift ideas or small souvenirs, you will certainly find what you are looking for at the small Christmas market.
But there is always something going on in the high valley. Regardless of whether it is sporting events, musical events, lectures, guided hikes - there is something for everyone. Stay up to date on various events.
What else you should have seen ...
"You don't just travel to arrive, but above all to be on the move." Johann Wolfgang von Goethe
If you are looking for a bit of culture in addition to relaxation, you've come to the right place! Our high valley offers great excursion destinations - but there is also a lot to discover in the area.
What you can explore in the Wildschönau:
- How about a visit to the Farming Museum z'Bach?
- The 1st Tyrolean Wood Museum is fun and interesting.
- You can find out everything about cheese at the Show Diary Schönangeralm.
- Adventure can be found in the Show Mine Lehenlahn.
- A natural treasure to be found in the Kundl Gorge.