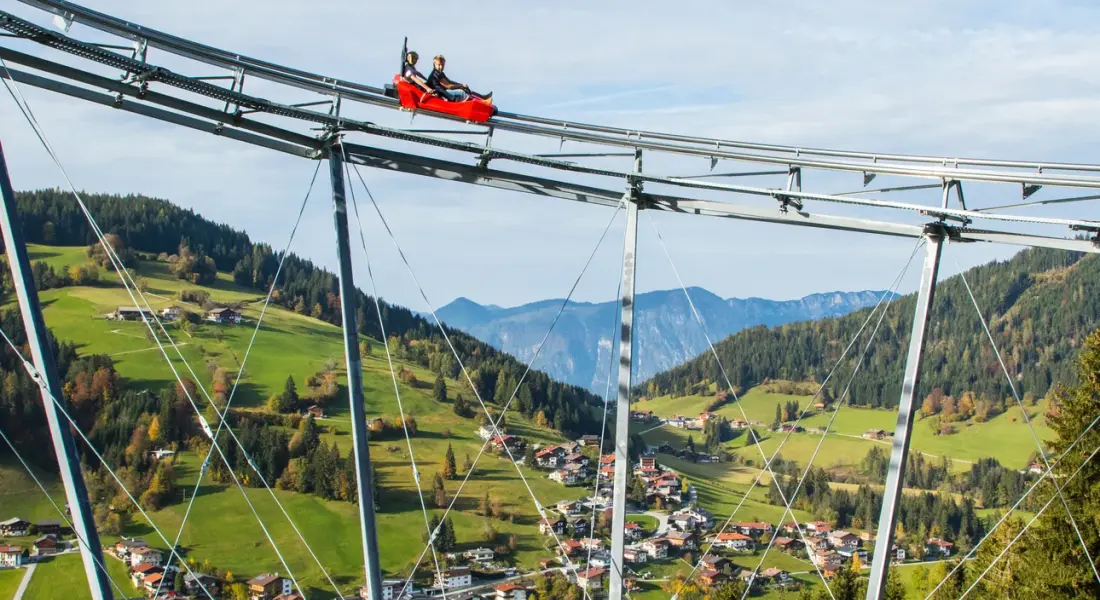 Drachental Family Park Wildschönau
Just beside Landhotel Tirolerhof - amusement park "Drachental Family Park Wildschönau". Worth a visit in both summer and winter. Enjoy the Tirolerhof advantage, because the park is right next to our hotel - so perfect for your family fun.
Embedded in the great scenery of our fabulous mountains, you can experience games, fun and action for the whole family. The main attraction is certainly the Alpine Coaster, which with its spectacular curves, arcs and jumps leads down into the valley over a length of 2 km. And the big plus - the less courageous can watch the rapid ride from below. So enjoy the ride with the most modern Alpine-Coster on the market - with the very latest safety standards, of course. And the best thing about it: the Alpine Coaster can be used all year round and offers great leisure time fun in both summer and winter!
Especially in summer, the family amusement park becomes an exciting meeting point for families from near and far. The games lake is a big eye-catcher. In addition to rope-guided play rafts, balancing elements and rocking platforms, it also offers a relaxation area. The children and adolescents are playfully animated to improve and train their motor skills. It gets more adventurous with the Bike Trail, which offers a lot of fun and challenges with 3 different difficulty levels. A kart track and a tubing track are also planned - the ascent is very easy using a conveyor belt. Furthermore, an adventure playground, a motor skills course with 10 stations of various levels of difficulty and bouldering stones as well as a 4D cinema attract numerous visitors. The leisure arena should grow and always come up with new attractions.
But great attractions are also planned for the winter. An artificial ice rink is created that is even suitable for ice stock sport. The Schießhüttellift will of course remain in operation and will be expanded with a conveyor belt - the perfect ski area for your family vacation.
If you are looking for more information about our great new project, you will find more details here.