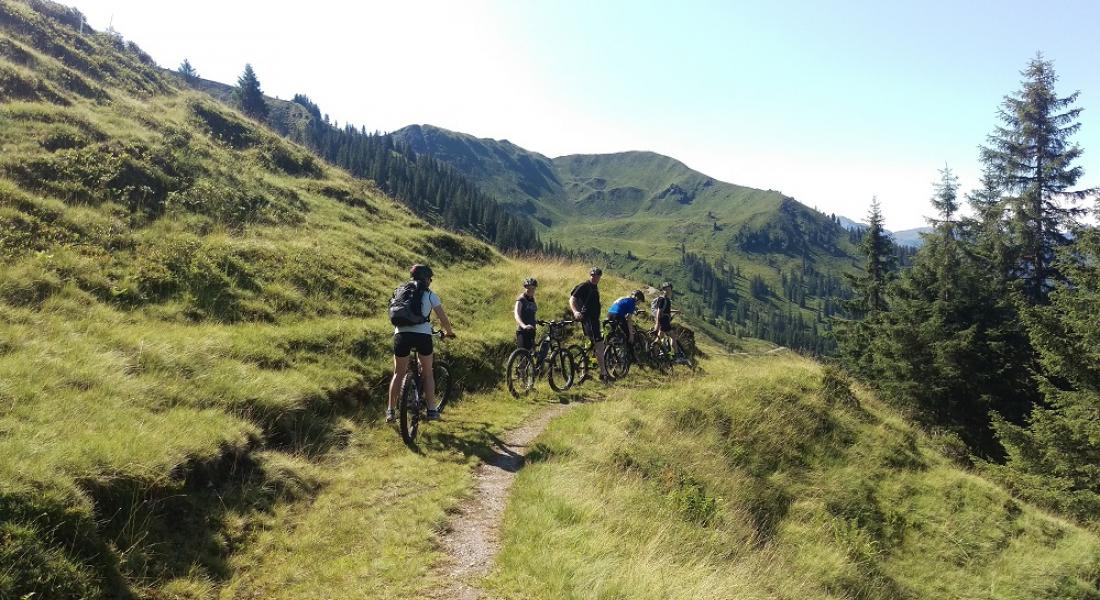 E-Bike & Mountainbike
"In no other invention is the useful and the pleasant so closely connected as with the bicycle." Adam Opel
Feel the wind and experience a picture book landscape - plus the feeling of happiness of a completed tour. Our high valley can offer you all of this. Drive along meadows and streams or are you looking for a challenge and want to get to the summit to enjoy an exciting descent. A lot can be discovered in the mountains and pastures by bike. For the less experienced, the e-bike offers a great alternative to get to know this exhilaration - because in the Wildschönau region there is an altitude difference lurking around every corner.
By the way, we are quality-tested bike accommodation
We are happy to accommodate our own bikes in our locked bicycle cellar in our hotel. And if the tour dirties your mountain bike with mud, you can easily clean it at our bike washing area. But you can get to know the Wildschönau on two wheels even without bringing your own bike. Because we have our own e-mountain bike rental. Just the thing for those who want to explore our valley with little effort. The bikes can be booked in advance via email or phone. Of course, this is also possible during your stay at the Landhotel Tirolerhof. A comprehensive bike map contains all excursion destinations and designated cycle paths. You can get the card and lots of other tips and information from us at reception.
What can you experience in the Wildschönau region?
The Wildschönau holiday destination impresses with comfortable and challenging routes for all bike fans - we would call it a little insider tip. Whether over the Markbachjoch or from the idyllic small village Thierbach to the Schatzberg - the possibilities are diverse. The rustic huts invite you to have a little refreshment while you can let the mountains of the Kitzbühel Alps work on you. And if you don't want to start a longer tour, you can do a few laps on the bike trails right next to our Landhotel Tirolerhof in the Drachental to perfect your technique.
All tours are also suitable for those who still want to achieve a lot with less stamina - namely with an e-bike. The bike tours are downright relaxing and you have time to enjoy the beautiful landscape through which you cycle.
A little bike tour tip from us leads to the Horlersiegl chapel and then on to the Brixentaler Holzalm. The Achentalalm and the Zauberwinkel can be reached via the road. An e-bike tour is possible throughout the valley.
For bikers and e-bikers there are varied routes that lead past many refreshment stops.
For e-bikers there are 59 battery exchange stations in the Kitzbühel Alps, making a leisurely bike tour to Kufstein or the neighboring Brixental possible.
If you prefer to explore our valley with a competent guide, the Mountainbike school Wildschönau offers a 100% experience and adventure - with or without electricity.
Another little tip for parents with children: While the little ones are having fun in the dragonclub, a short bike tour ensures that parents can take a break together. Child care is free with the included Wildschönau Card.