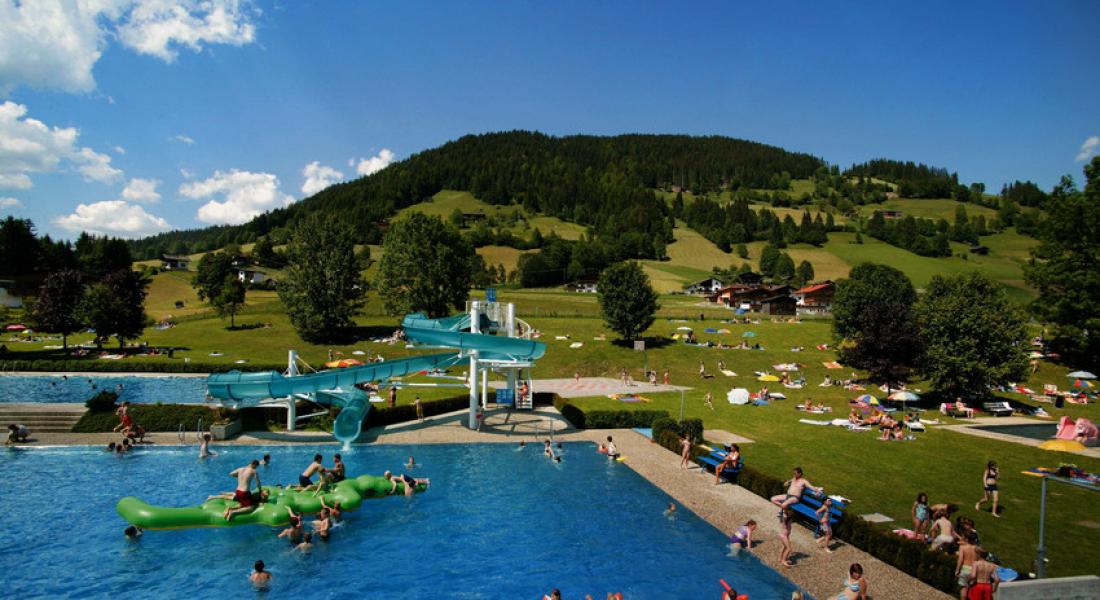 Bathing Fun
In the large outdoor swimming pool, water-rats romp and refresh after an eventful hikind day.
Between Oberau and Niederau along the Franziskusweges, the heated complex offers a sports pool, a multipurpose pool and for our little ones a children's pool. Jumping platforms at the lap pool, waterslide and the green crocodile at the multipurpose pool as well as the pink elephant in the children's pool guarantee fun and games for the whole family.
The outdoor swimming pool area also has a large playground for children with inviting play equipment: trampoline, slide with awning, swing, sandpit, table tennis, climbing ropes and much more. Perfect for smaller but also for older children.
The large lawn offers plenty of space and enough shade. After bathing, treat yourself to a cool drink, snacks or ice cream on the café terrace.
The included beach volleyball court pleases the sports fans - just after a heated game you can cool off in the water. Only a few meters from the pool is the tennis court Oberau with three clay courts and buffet. Court reservations are possible one day in advance. The use of the tennis court is included as well as the outdoor pool in the WildschönauCard (excluding coach lessons).
At Schatzberg, at the Markbachjoch and at the Schönangeralm you will find reservoirs. These are not bathing lakes, but invite you to linger. If you want to a natural lake, you will find this about 20 minutes away in Salvenaland in Hopfgarten (discount with the WildschönauCard). Also, the Reinthalersee and the Krummsee in Kramsach are only about 30 minutes away.
If it does not work out with the weather, you can relax in the Wörgler Wasserwelten Wave (15% discount with the WildschönauCard)