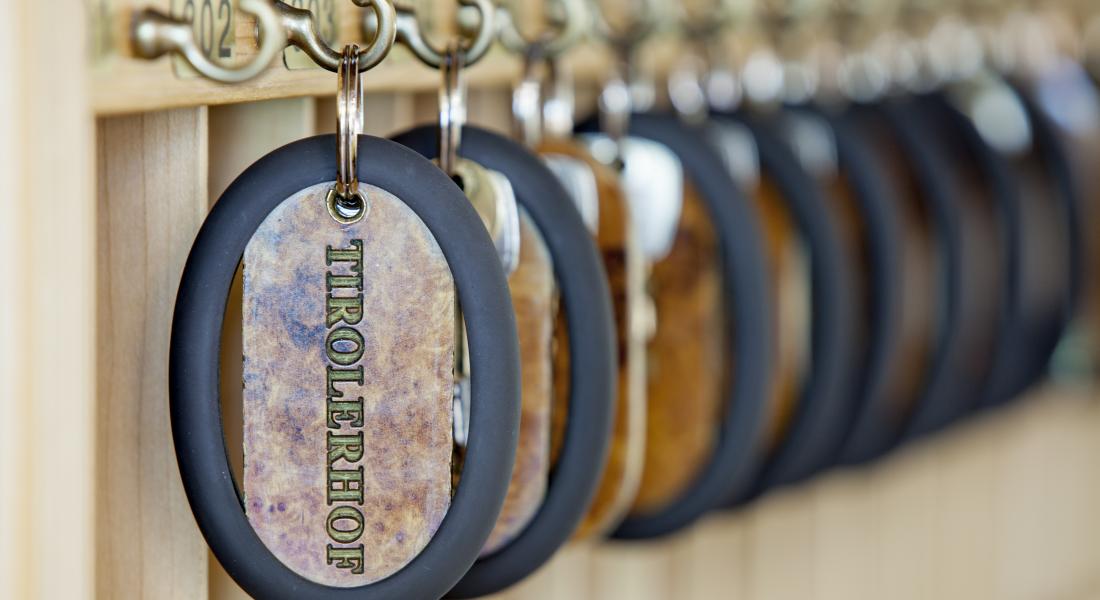 Hotel Information
Some general information to start with: The high valley of Wildschönau is located in the Kitzbühel Alps. The easiest and most comfortable way to our wild and romantic valley is via the well-developed road from Wörgl to the four villages in the valley: Niederau - Oberau/Mühltal - Auffach - Thierbach. The places are at an altitude of 828 to 1,170 m, which is particularly pleasant for those of all ages who are looking for relaxation. Oberau - the main town of the high valley - is located on the sunny side of the valley floor. Walk through the enchanting landscape and you will see that it is not for nothing that our homeland bears its name - WILDE SCHÖNE AU.
Some important phone numbers and addresses:
Doctors: Dr. Ingo Soraruf & Dr. Robert Mair | Churches, Oberau 172 | Phone +43 5339 20096
Dr. Georg Reinisch | Tegelanger, Auffach 237 | Phone +43 5339 21900
Pharmacy: Wildschönauerstrasse, Niederau 39 | Phone +43 650 533 2977
Tourist Information Wildschönau: between Oberau and Niederau | Phone +43 5339 8255-0
Dentists: Dr. Swantje Knöfel in Oberau | Tel +43 5339 2544 - Dr. Florian Weißbacher in Oberau | Phone +43 5339 8320
Happy Ski School Oberau: right next to the hotel | Phone +43 5339 2323
Arrival: if you arrive by car, you can drive up to the covered hotel entrance. After that we ask you to park your car in the parking lot next to the hotel. Please complete the registration formalities at the reception.
Dinner: from 6:00 p.m. to 7:30 p.m. we await you in our dining room. Please help yourself to our salad buffet.
Departure: We ask you to vacate your room by 10 a.m. on the day of departure. If you only leave in the evening, we will be happy to deposit your luggage in the hotel lobby or in the basement.
Allergens: If you have any questions about allergens, please contact our trained staff.
You can get postcards at the small bar.
Aperitif at the small bar in the cozy hotel lobby.
Aroma cabin: please note the current hygiene regulations - see also vital area
Bathrobes can be hired from reception for the duration of your stay for a fee of EUR 5.00.
Bathroom: towels lying on the floor are changed.
Library: You will find a small book corner on the 3rd floor.
Fire alarm system: The hotel is equipped with an automatic fire alarm system. To avoid false alarms, we ask you to pay attention to the position of the smoke detector in your room, as these are very sensitive (hairspray,...).
Steam bath: please note the current hygiene regulations - see also vitality area
Electric charging station for vehicels is on the left at the back of the hotel
Relax! Enjoy your vacation in our mountains!
Room service: In the event of illness, we also serve meals in the room.
Breakfast: start the day in peace with a good healthy breakfast ... that's vacation! The buffet is set up for you from 8:00 a.m. to 10:00 a.m. Choose to your heart's content.
Television: Your television offers you 100 TV and 80 radio programs, channels 1+2 information programs, 3-99 television programs from channel 100 radio programs. Use is of course free of charge.
You can get glasses for your room at the small bar.
Service Catholic Church Oberau/St. Margaretha – you can find more information on the information board next to the reception.
Indoor pool: open 7 a.m. - 10 p.m. - please note the current hygiene regulations. The counter-current system can be switched on in the pool itself (press the white button on the edge of the pool opposite the stairs). Massage jets and springs are timed (times are posted on the stairway to the pool). We ask you not to enter the leisure area with street shoes. Edge jumping is forbidden! Children under the age of 6 must not be left unattended.
Dogs ... unfortunately have to stay outside: in the restaurant, dining room, leisure area. Thank you for your understanding. We charge a daily fee of EUR 9.00.
Internet is free of charge, we only ask for a donation for the "Wildschönauer concern children" (donation box at the reception). Connect to "WIFI Tirolerhof", then open a browser to log in.
Small bar ... is located directly in front of the elevator to the hotel lobby. The right place for an aperitif, to chat or for a nice glass of wine.
Extra pillows - head wedge...please contact reception.
Credit cards: we accept VISA and MasterCard as well as EC cards from Austria, Germany and the Netherlands.
Cuisine: Our cuisine team takes care of your physical well-being with a lot of love. Our chef attaches great importance to the regionality of the products used - so much comes from local farmers.
Children are welcome guests with us. There is a separate children's menu in the restaurant and also for dinner. Games can be borrowed from reception and there is a children's playroom in the basement. We ask all parents to ensure that their children under the age of 6 are not neglected
Lift: With the 2 lifts you can quickly reach all floors. Children under the age of 6 may not use the lift unsupervised.
Massage: appointments at the reception.
FFP2-Masks: Please observe the current hygiene regulations.
Choice of menu: You have the option of choosing between three main dishes. You will find your "Morgenpost" with the evening menu on your breakfast table. Please select the main course of your choice there.
Morning News: we will inform you about current events, festivals, ... in our daily newspaper
Waste avoidance - waste separation ... an untouched nature is no longer a matter of course these days. We try to separate waste and to avoid it at all and are also dependent on you in many areas. Please hand in hazardous waste (batteries, spray cans, ...) at reception. We thank you for your cooperation!
Night entrance: Your key card locks the hotel entrance door. Inside you will find an automatic one to the right of the door
door opener.
Parking: You will find parking spaces in front of and next to the house. However, we ask you to keep the covered driveway to the hotel free.
Reception is open from 8 a.m. to 9 p.m. We would be happy to provide you with everything you need to know. If the reception is not open, please contact our staff in the restaurant.
Radio: Your television also offers you 80 radio programs
Smoking in the hotel: Smoking is strictly prohibited throughout the hotel! Smoking is permitted on the balconies, but we ask that you be considerate of your neighbors.
Restaurant: Our restaurant is open daily from 9:00 a.m. to 9:00 p.m. and offers you warm meals throughout the day. During the summer months we have a day off on Tuesdays in our public restaurant.
Non-slip mats for shower or bath are available at the reception.
Safe: There is a safe in every room. You are also welcome to deposit valuables and cash in our hotel safe at reception. Of course this service is free of charge.
Sauna: please note the current hygiene regulations - see vitality area
Key card: Your card also locks the hotel entrance, ski room and drying room. Please remember to return your card to reception on the day of departure. We charge a fee of €5.00 for lost tickets.
Boot and ski room: In the basement you will find our ski room and heated boot room, which is accessible from the outside. You open the ski room with your key card, the outside door will be opened from hotel. Please do not take ski equipment to the room. We have camera surveillance.
Dining room: Breakfast and dinner are served in the dining room. Please note the following meal times:
Breakfast ...8 - 10 a.m. Dinner ...6 - 7.30 p.m. (start)
Games can be borrowed from reception.
Our Stadl-Bar on the ski slope is open from 3 pm.
Table tennis - table football can be found in the basement. Rackets and balls are available from reception. For the table football you need € 1.00 coins
Tirolerhof souvenirs: You can get a small selection of souvenirs such as DVDs, CDs, caps, T-shirts, ... and our ORIGINAL WILDSCHÖNAUER STURMLÖDATORTE (on advance order) at the reception.
Telephone: Local and long-distance calls - 1. Pick up the handset and dial "0" or outside line access 2. You hear the dial tone (continuous tone) 3. Dial the desired number. Fees (€ 0.20/ unit) will be charged to your room.
In-house calls - 1. Pick up the handset 2. Press the desired number (room number) or the reception button at night (emergency) ...... 59
Drying room: In the basement (next to the entrance to the vitality area) there is a drying room for ski and swimwear. You open the door with your key card.
Vital area ... have a good time!
Indoor pool daily from 7 a.m. to 10 p.m. - please note the current hygiene regulations.
Sauna area with sauna and steam bath, aroma cabin, adventure and brine shower, as well as relaxation room with cozy heated benches is available for you every day from 3 pm. Please not the latest hygiene regulations. You can find detailed information at the reception.
Alarm clock (with the telephone): Pick up the handset, select the "wake-up call" button and enter the four-digit wake-up time: 7.30 is 0730, then hang up the handset. This process must be repeated daily - or let reception know.
Hiking sticks can be borrowed from reception. Deposit: € 20.00
Wildschönau Guest Card: A service provided by our tourism association - allows you, among other things, free use of the ski bus. You will receive the card after registration