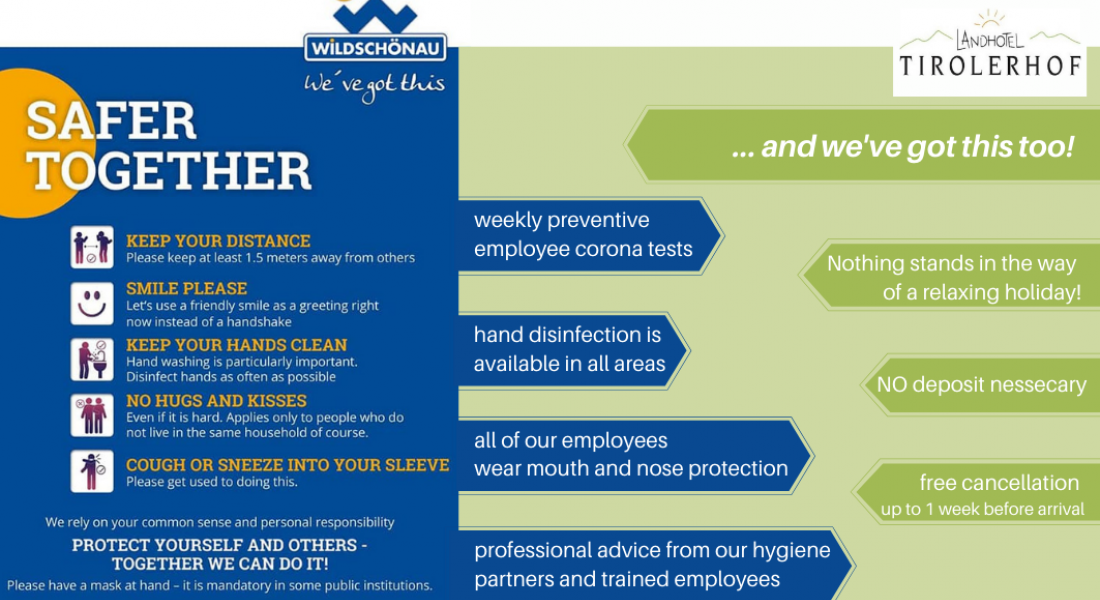 A holiday to recharge your batteries
Go on a safe vacation
HERE YOU WILL FIND OUR GUIDELINES FOR HOLIDAYS AT TIROLERHOF:
Dear guests! A multitude of measures ensure the safety of all of us. We always strive to meet the requirements of the health authorities in the best possible way and, where possible, to implement them even more extensively. Specifically, we take the following measures:
- As a participant in the "Safe Hospitality program", we conduct preventive employee corona tests on a weekly basis.
- We provide hand disinfection in all areas.
- Our employees wear masks.
- Mask requirement in publicly accessible interiors for guests.
- Our hygiene partner advises us professionally with appropriate cleaning measures and employee training.
- Further current information can be found on the homepage of Tourist Information Wildschönau.
And yet - nothing stands in the way of a relaxed and rejuvenating holiday with us.
Open to the usual extent:
- Take a seat in the dining room for breakfast and dinner - no mask requirement at the table
- Restaurant at the Tirolerhof open all day
- Massages can be booked at the hotel by appointment
- The cable cars in Niederau and Auffach are in operation (with mouth and nose protection)
Where are restrictions:
- The sauna area is only possible with registration at the reception
- Our small indoor pool can be used by a maximum of 6 people at the same time
Information status: 15.09.2020
What's next in winter?
🏨 Accommodation:
When it comes to accommodation, the same rules apply that have already proven their worth in summer:
📍 Minimum distance of 1 meter between groups of guests not traveling together
📍 Mouth and nose protection is mandatory for employees with customer contact as well as for guests in generally accessible rooms
🍺 Gastronomy:
📍 Aprés-ski is not possible in this year's winter season in Austria.
Both indoors and outdoors, the consumption of food and drinks is only permitted while seated.
🎿 For ski schools, the recommendation is:
📍 Maximum group size is ten people
📍 No change or mixing of the groups
📍 Free corona tests for ski instructors as part of the "Safe Hospitality program"
🚠 Cable cars:·
📍 Mask compulsory in gondolas (tube scarves are also considered a mask) - On Schatzberg / Auffach this only affects one gondola
📍 When standing in line, the 1 meter safety distance must be observed
📍 More ski buses will also be used (mask required in public transport) - alternatively, you can of course also drive to the valley station by car (approx. 7 minutes by car)
More Information on Ski Juwel.
Information status: 09/24/2020 (source: Tiroler Tageszeitung dated 09/24/2020)
Fair & risk-free booking: NO deposit is required
Cancellation free of charge up to 8 days before arrival
7 to 2 days before arrival we charge a 20% cancellation fee
1 day before arrival or the day of arrival we charge a 70% cancellation fee
We definitely recommend taking out travel and cancellation insurance!
If you have any questions, just write to us at any time to info@hoteltirolerhof.at or call us on +43 5339 81180. We look forward to your inquiry!